Billed as the largest King Air gathering in the world, King Air Gathering IV is nearly upon us; taking place September 26th to the 28th in Fredericksburg, TX. This year, organizers (King Air Academy) have decided to place a special emphasis and focus on safety.
"The KAG IV is all about SAFETY in the overall operation of your King Air. From the speakers, the agenda, the sponsors and the training, this year we are committed to making everything revolve around SAFETY," noted the email detailing the gathering.
For interested parties, you can register for the Gathering here. In addition to a General Attendee Package ($300 per attendee), there is also an additional package option to sign up for a Ground School Recurrent Training with Tom Clements (author of the King Air Book), allowing one to learn from the King Air master himself. See website for pricing details.
As always, KAG IV will feature world class speakers and leading experts in their respective fields. The keynote speaker for the Gathering is Peggy A. Whitson, Ph. D a veteran astronaut as well as a space and science consultant. A few of her many achievements include being the first woman to command the International Space Station, first female Chief Astronaut, the most spacewalks of any female astronaut and spent more time in space than any other American – 665 days!
Additional speakers include Mark Baker, President of the AOPA, the esteemed Dr. David Strahle, legendary King Air instructor Tom Clements, and many more (see speaker page).
The official KAG IV Gathering site can be found here. For a breakdown of the Gathering agenda, click here. The Gathering has gotten bigger and better every year, and we're looking forward to another awesome time. For now, these photos of the flight line from KAG III will have to suffice. We've also posted the agenda below for convenience.
KAG IV Agenda:
Thursday, September 26

Friday, September 27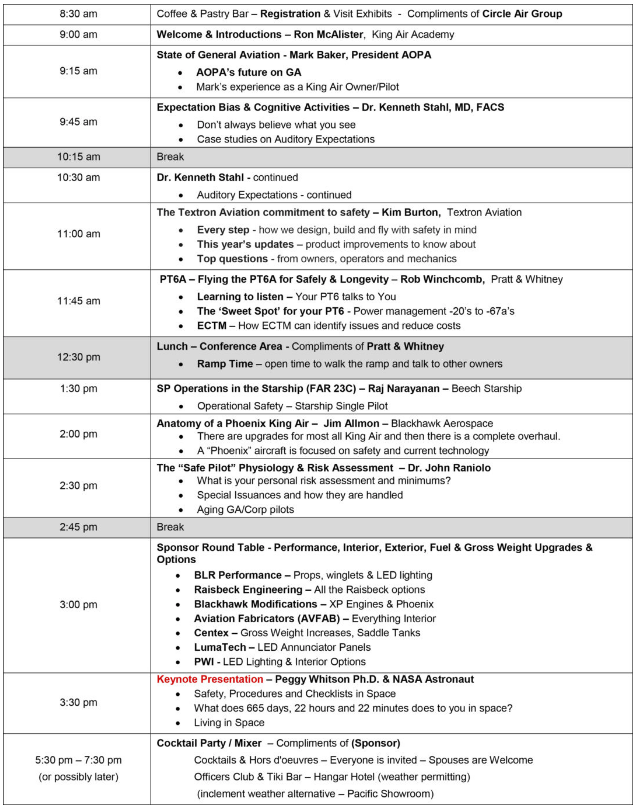 Saturday, September 28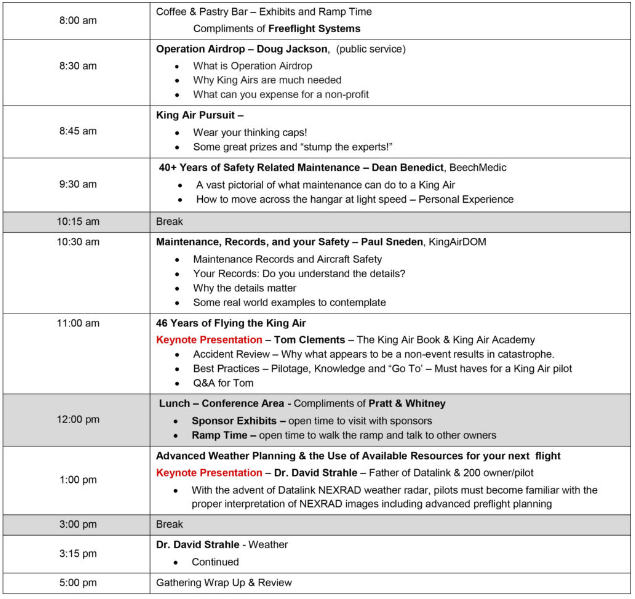 Sunday, September 29