On October 18-20th, 2022, the NBAA Business Aviation Convention & Exhibition (NBAA-BACE) returns to the Orange County Convention Center (Orlando Executive Airport, Orlando, FL). The convention is one of the largest annual events in aviation with over 1,000 companies and over 25,000 professionals connected to the industry represented. This year, NBAA celebrates 75 years of having served the aviation business community.
Registration for the conference is open here. Pricing differs for NBAA members and non-members: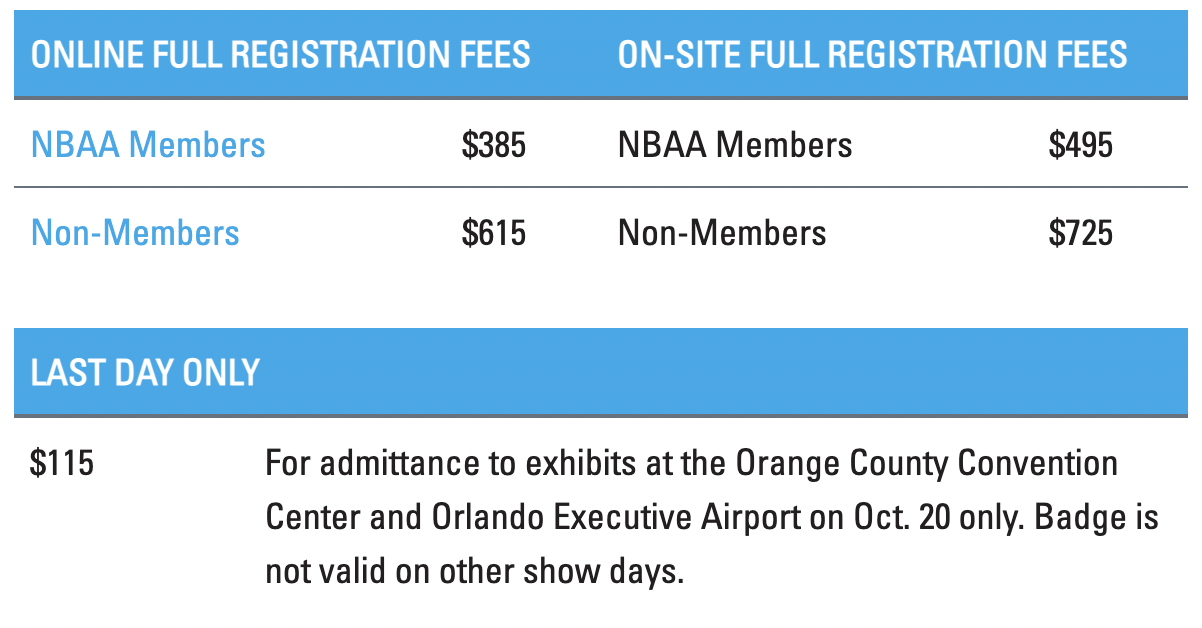 A nice surprise this year was to see King Air headlining the image used for promotion of the conference online and will be featured prominently across the show floor. Multiple companies associated with our favorite aircraft will be attending NBAA-BACE. We've rounded up the ones we've found so far and will continue to update this list.
Of special note, Textron Aviation will be displaying a King Air 360 at the NBAA airfield exhibit (AD_502) and Tamarack Aerospace Group will be displaying a King Air 350 (AD_308).
Giveaways: Stevens Aerospace will be giving away up to $50,000 in free inspections in drawings (sign up at booth #4823) held on Tuesday at 3pm, Wednesday at 11am and Wednesday at 3pm.
| | |
| --- | --- |
| Exhibitor | Booth |
| Blackhawk Aerospace | 4819 |
| BLR Aerospace, LLC | 3417 |
| CAE | 3935 |
| Collins Aerospace | 3435, AD_505 (Airfield) |
| Elliott Aviation LLC | 3291 |
| FlightSafety International | 2476 |
| Garmin International | 4827 |
| Hartzell Propeller, Inc. | 4443 |
| KADEX Aero Supply | 2622 |
| PWI, Inc. | 3071 |
| Raisbeck Engineering, Inc. | 4319 |
| StandardAero | 3014 |
| Stevens Aerospace and Defense Systems LLC | 4823 |
| Tamarack Aerospace Group, Inc. | 1770, AD_308 (King Air 350) |
| Textron Aviation | 1273, AD_502 (King Air 360) |
| TRU Simulation & Training | 1281 |
| Wheels Up | 2061 |