Update: Check out this video of the  unveiling:
Nextant Aerospace unveiled the cockpit mockup of their remanufactured King Air G90XT at the GE Aviation booth at EAA on Monday. Attendees at the unveiling were the first to see full-scale mock-ups of the G90XT's "cockpit of the future" and of the GE H75 engine. Nextant has already taken delivery of the first shipped set of engines and is on track for certification of the King Air-derived remanufactured aircraft by year end. The new-generation H75 turboprop saves weight compared to the PT-6 it replaces and benefits from GE's broad experience in several key aspects. Major savings are expected in operating costs thanks to reduced fuel consumption, no hot sections and 4,000 hour TBO.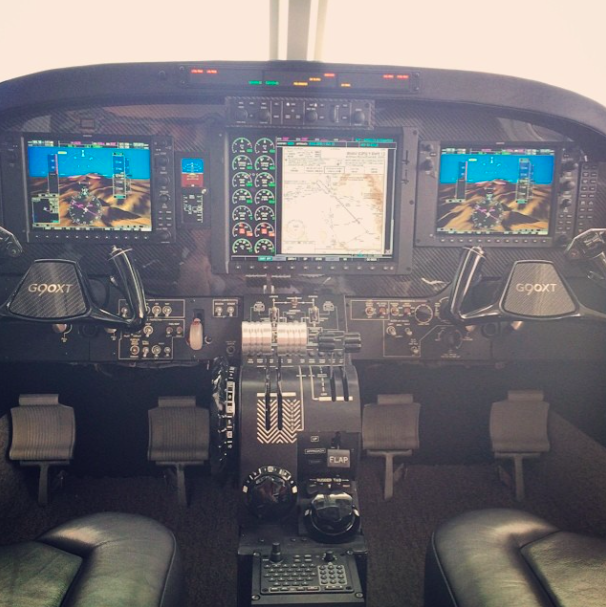 The G90XT also features an array of advanced technology from integrated electronic engine management and single-lever power control to the latest enhanced Garmin G1000 glass cockpit, digital pressurization and an all-new environmental cooling system. Like its jet stable mate the 400XTi, the G90XT also features a handcrafted interior, reduced cabin noise and aerodynamic refinements.
"It's exciting to bring some of our latest design and engineering technology to Oshkosh for their first ever public appearance", said Nextant President Sean McGeough. "Nextant is redefining the business aviation industry by combining the reliability of highly-successful business aircraft with the latest technology in engines, avionics and cabin comfort. With our unique remanufacturing process we create as-new aircraft with performance that will match or surpass comparable new models for half the purchase price. That's the transformational message we're sending from Oshkosh to business aircraft customers everywhere."
You can learn more about the King Air G90XT at www.nextantaerospace.com. [divider]
More Photos