Banner image: A Blackhawk modified 300 (source: Blackhawk)
Talking with AIN in a recent interview, Blackhawk Aerospace announced they had performed and delivered the 100th pair of XP67A engines to a King Air. Most impressively, it's only be a little over 2 and a half years since Blackhawk received the STC approval to perform the upgrade for King Air 300s and 350s.
Speaking of the upgrade, Blackhawk president and CEO Jim Allmon said: "Our engineering team got this STC done in about 12 to 13 months. For most companies that do a major STC of this size, it's a three-year process. Normally we don't hit 100 on a product line for four or five years."
The customer was Red Bull Air Force, whose King Air 300LW is receiving the upgrade. The company's website notes they are "a team that specializes in highly coordinated aerial jump demonstrations and continually push the limits of human flight."
According to Augsburg Air Service (AAS), the Blackhawk approved dealer/installer who is performing the upgrade, the XP67A engine upgrade will answer Red Bull's desire for speed; a natural fit for an energy drink company.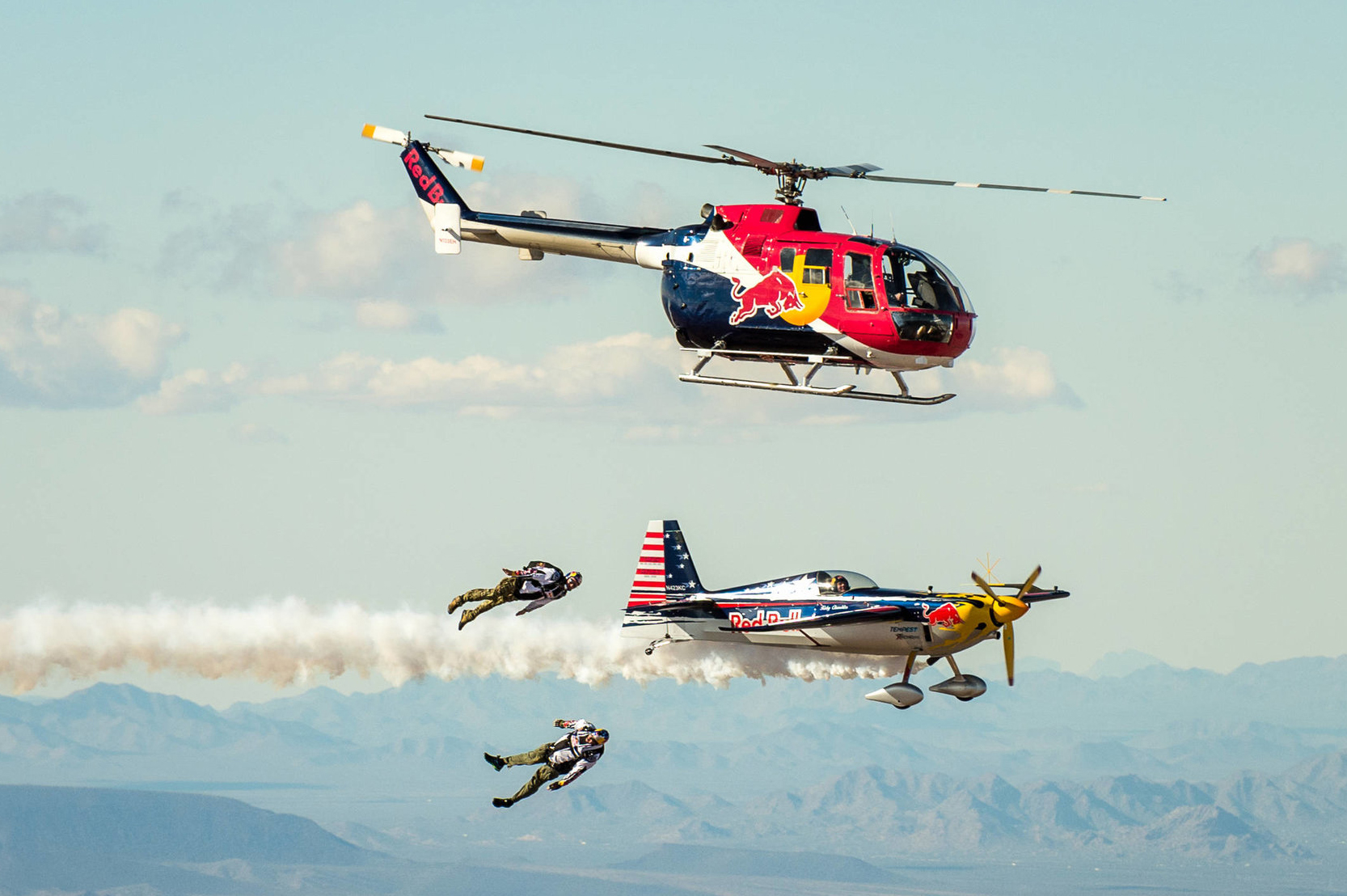 The Red Bull Air Force is known for pushing the limit as this photograph shows. (Source: Red Bull Air Force)
"Our goal is to make it the fastest King Air 300LW in the world," Kohlmann said. "And it's such an honor to work with this incredible team at Blackhawk Aerospace and Red Bull, who are supporting business aviation, sports, and passion for aviation around the world."
The PT6A-67A engines of the XP upgrade answer that need for speed with an astonishing 60% improved climb rate, a 332+ knot maximum cruise speed and the ability to carry 62% more payload.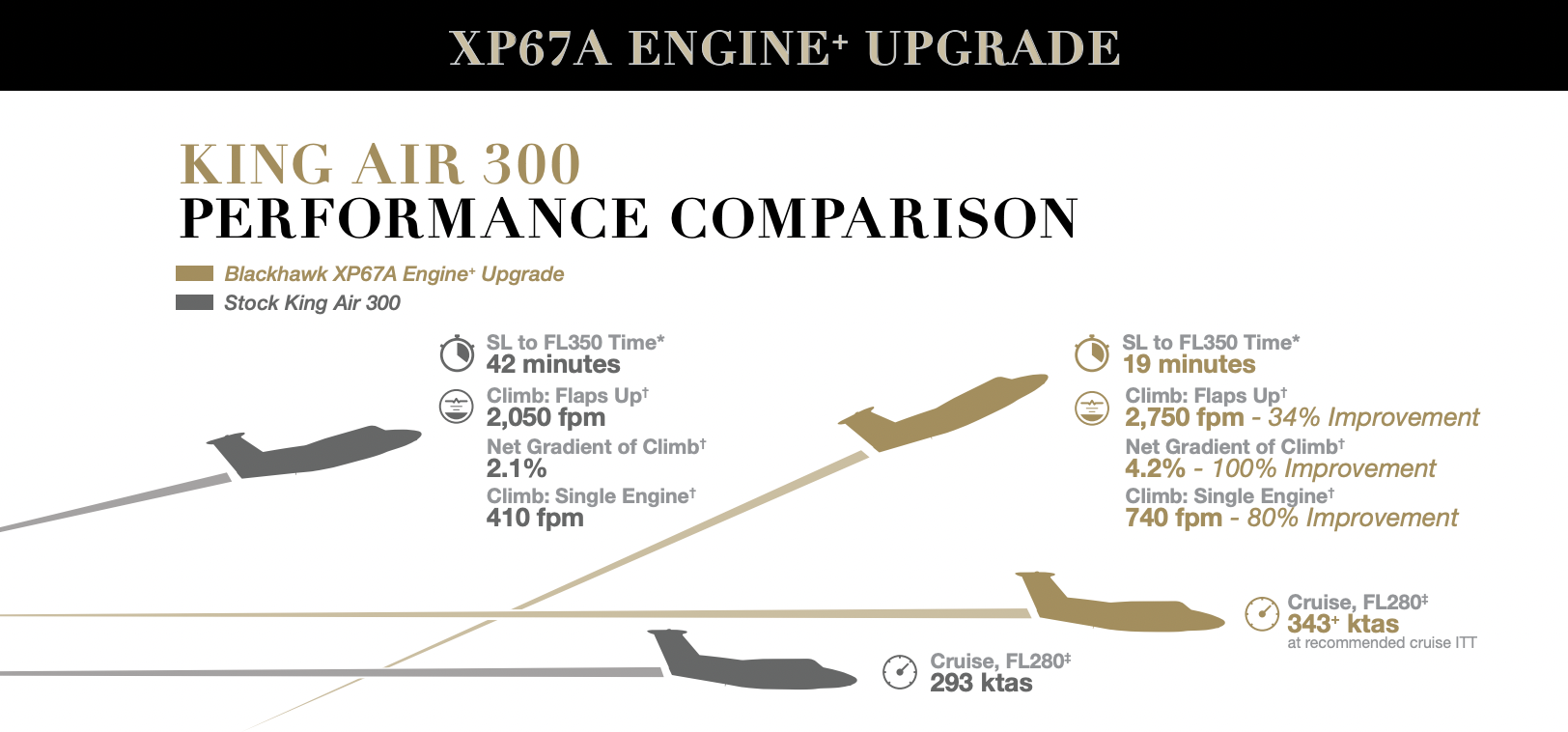 Graphic demonstrating performance improvements of the XP67A Upgrade for a King Air 300 (Blackhawk)
In addition to the XP67A upgrade, the company's King Air 300LW is being modified with Garmin G1000 avionics, winglets, and an updated interior.
The cherry on top will be Hartzell's five-blade propellers. According to Allmon, the propellers paired with the PT6A-67A engines "makes that airplane the fastest King Air on the planet. We're 340 knots plus on the 300 because it's a lighter, 14,000-pound airframe."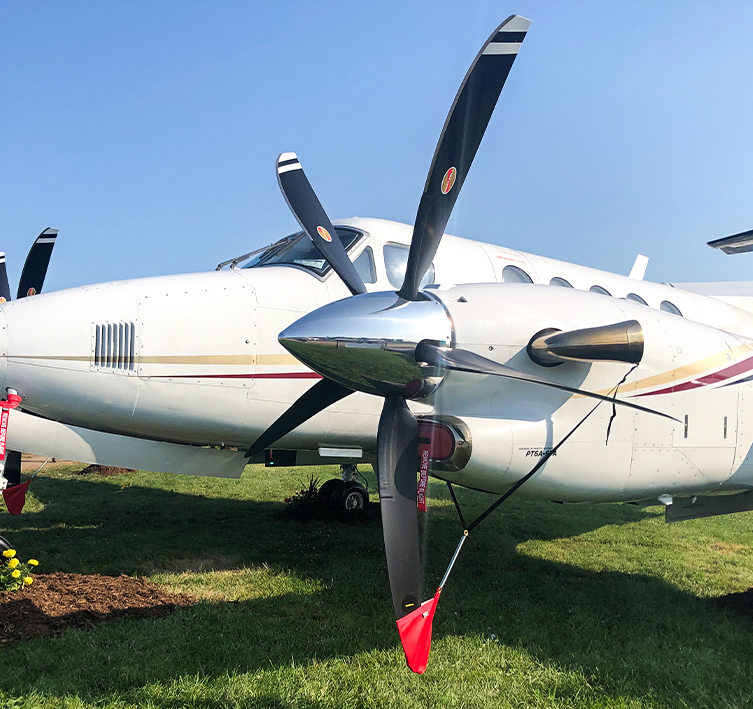 Hartzell five-blade propellers on a King Air 300 - Oshkosh. (Source: Hartzell)
We're quite curious what Red Bull plans on using this aircraft specifically for. We'll be following this story and update if we learn more details. For further reading, check out our detailed breakdown of Blackhawk's XR upgrade, an update for military/special-mission King Air 300 turboprops.
For those interested in learning more about the XP67A upgrade, Blackhawk produced an excellent video detailing the package: