Private on-demand aviation company Wheels Up announced this month financial results for the third quarter, which ended September 30, 2022.
Third Quarter highlights included:
Revenue increased 39% year-over-year to $420.4 million
Active Members grew 12% year-over-year to 12,688 in total
Live Flight Legs increased 7% year-over-year to 21,025 in total
Net loss increased by $27.4 million year-over-year to a net loss of $86.8 million
Adjusted EBITDA decreased by $21.3 million year-over-year to a loss of $45.2 million
The company first began in 2013 and has focused on growth and acquisitions over the years. This included the largest purchase ever of King Air: $1.4 billion for up to 105 King Air 350i. Last quarter, Wheels Up signaled an increased focus on achieving positive adjusted EBITDA in 2024.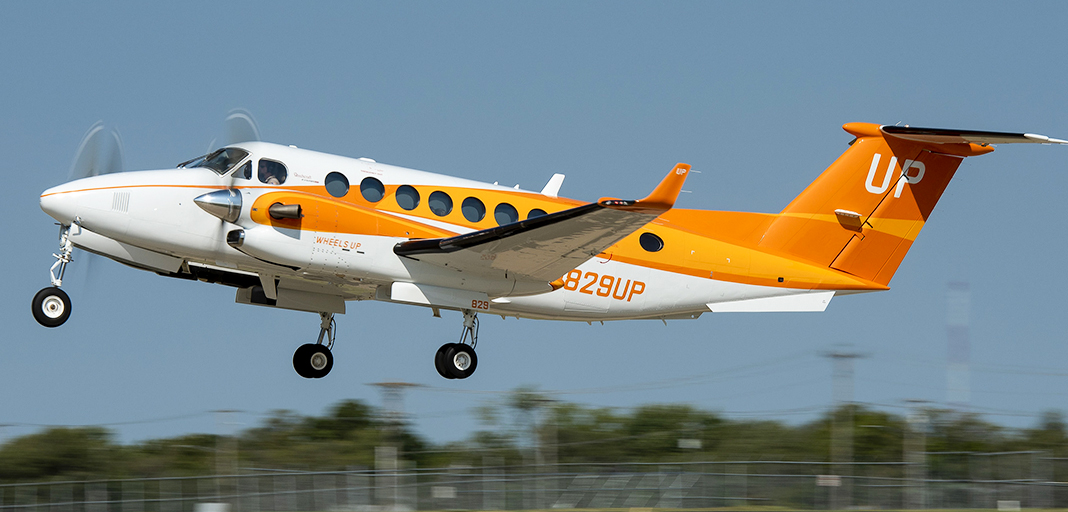 A special color themed King Air 350i takes off (Wheels Up)
"Our strong foundation, with an iconic brand and large base of loyal customers, helped drive another record revenue performance in the third quarter, further reinforcing the strength of our demand, even in this uncertain macroeconomic environment," said Chairman and CEO Kenny Dichter. "We are implementing a streamlined organizational structure, with senior leadership focused on driving key initiatives at an accelerated pace, which is a significant step in delivering profitable growth and an enhanced experience for our members and customers."
"With our strong revenue performance, and the cash proceeds from our recent debt financing, we are in a strong position to continue our efforts to drive pricing, cost reductions and improved operational performance in support of our commitment to Adjusted EBITDA profitability in 2024," said Todd Smith, CFO. "We expect increased focus and improved accountability to accelerate our execution and position us to achieve our goals."
The first-ever pink Beechcraft King Air 350i (Wheels Up)
On November 22nd, Wheels Up announced a partnership with AirMed, a global leader in medical transport. The partnership will bring an array of medical-travel services to Wheels UP members with the introduction of an all-new membership tier.
The membership tier will cover members - and up to 11 additional designated travelers - in the event they require medical consultation or air medical transport while traveling. This includes 24-hour access to AirMed's fleet and experienced and qualified air medical crews whenever members travel more than 150 miles from home.
"The health and safety of our members is our top priority at Wheels Up, and this partnership will provide additional peace of mind, wherever their travels might take them," said Wheels Up Chairman & CEO Kenny Dichter. "AirMed shares our passion for the customer, and their significant experience providing world-class care during some of life's most critical moments will be incredibly valuable to our members."

AirMed King Air (AirMed)
"AirMed International is thrilled to be partnering with Wheels Up as our exclusive membership partner in the aviation industry," said Denise Treadwell, President of AirMed. "As two best-in-class operations, the partnership equips Wheels Up with an enhanced worldwide membership program to take to market, and we're excited to support their efforts."
The website of Wheels Up is wheelsup.com.
The website of AirMed is airmed.com.