Private on-demand aviation company Wheels Up has announced it has redesigned its flight programs to be more in-line with the flying habits of its 12,000+ customers while offering an improved experience and increasing affordability. The change took effect on June 26, 2023.
"These new programs represent a fundamental shift in how we are bringing our products and services to market to best serve our members and bolster our path to profitability," said Mark Briffa, Chief Commercial Officer. "As Wheels Up has grown, we've seen that a one-size-fits-all pricing and geographic service model doesn't reflect how our customers actually utilize Wheels Up or allow us to truly capture the operational and financial benefits of our scale."
The new programs will create two primary service areas. The first will be east of the Mississippi River with parts of Texas. The second will focus on the western region of the country. These two areas will comprise of more than 80 percent of customer flying from the previous year, 2022.
Briffa noted the programs will bring a host of benefits:
"By focusing our fleet in the areas where we have substantial demand and resource density, we are able to offer superior pricing, better service and improve the efficiency and profitability of our operations – all while keeping the customer firmly at the center of everything we do."
The King Air fleet, which according to estimates is 70+ (the largest in the industry), will be concentrated in the east region. Wheels Up other aviation offerings, including Light, Mid and Super-mid will operate in both the east and west regions.
Wheels Up additionally detailed the pricing for a new King Air UP access plan. The deposit plan has three tiers which cost respectively $50,000 (King Air 50 plan), $100,000 (King Air 100 plan) and $200,000 (King Air 200 plan). It will provide guaranteed availability/fixed hourly rates for flights in the east of the Mississippi region.
Wheels Up provided a further of the plan:
King Air 50 - Includes 250 days per year at $4,695 per hour
King Air 100 and 200 - 275 days per year at $4,495 per hour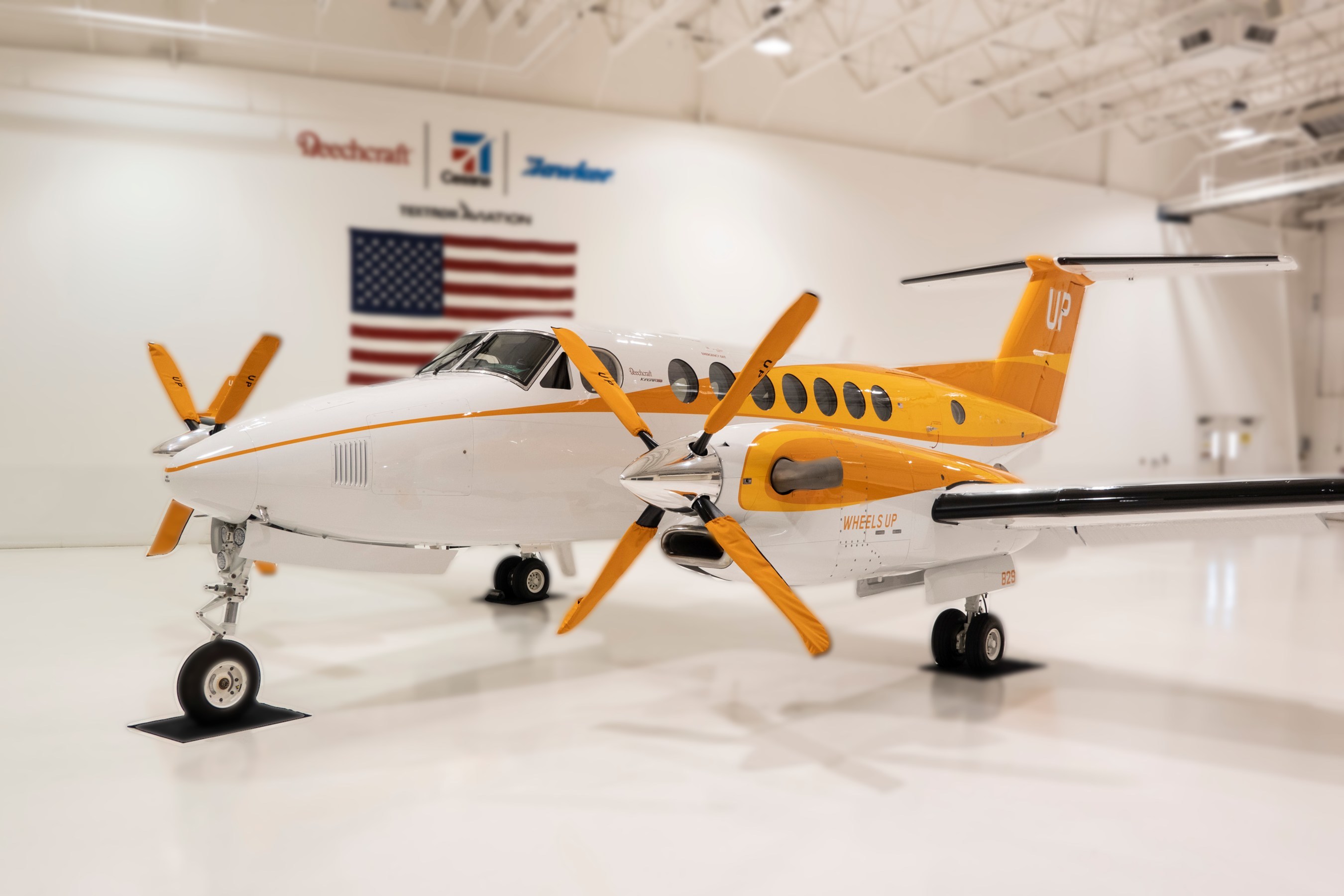 Wheels Up's Orange Beechcraft King Air 350i Aircraft in Honor of Feeding America's Hunger Action Month
Better pricing is not limited to just the King Air though, for according to Wheels Up, "Members will see lower prices across virtually all cabin classes, reflecting the operational efficiencies gained by a regionalized service strategy."
To accommodate charter flights outside of Wheels Up's primary service areas, the company will utilize its Air Partner subsidiary and partner network. Prices for these will be dynamically priced at current market rates which Wheels Up expects to be competitive relative to the broader industry.
The new program structure's ultimate goal will be to improve the customer experience with faster recovery times, better on-time performance and reduced operational complexity. If the new programs work according to plan, it will improve overall profitability for Wheels Up as well.
"Wheels Up was founded on a commitment to world-class service and an extraordinary member experience," continued Briffa. "These new programs are designed to deliver on those commitments to our existing customer base while also being very attractive to new fliers. We look forward to continuing to provide unparalleled service as a leader in private aviation."
---
Author - Scott Cooper, King Air Nation Communications Specialist
Info/Photos - Wheels Up