At King Air Gathering 2023, Textron Aviation brought a display unit of the company's King Air Ground Cooling for Beechcraft King Air 200/300 series. Originally made available in 2021, the tech is an excellent solution for cooling the aircraft cabin before departure allowing for passenger and crew comfort upon boarding.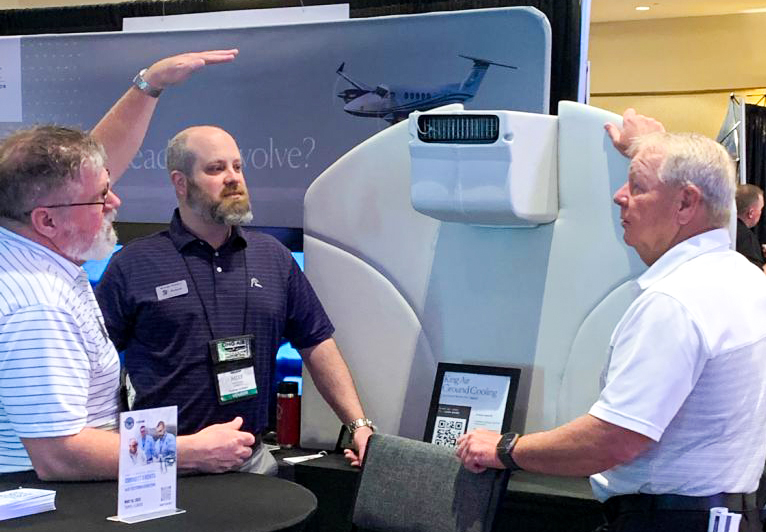 The Ground Cooling demo unit at the Textron Booth at King Air Gathering 2023
The system provides flood cooling into the cabin simply by plugging in a Ground Power Unit (GPU) yourself or contacting flight services when available. There is no need anymore to wait till being airborne; the cabin can be cooled while still on the tarmac or still in the hangar.
Image/information by Textron Aviation
"Textron Aviation continues to push the boundaries of customer service options for aircraft owners," said Brian Rohloff, senior vice president, Customer Support. "The addition of the Ground Cooling system for our Beechcraft King Air 200 and 300 series aircraft demonstrates our commitment to maximizing passenger comfort. Aircraft cabins often become heat soaked while waiting on the ground or in the hangar prior to departure and we are proud to offer a solution to this by enabling operators to easily cool their aircraft without anyone needing to be onboard."
The system is available for installation for King Air 200/300 models exclusively through Textron Aviation Performance Centers. Down time for installation is approximately 2 weeks. According to the product page, pricing starts at $46,300.
For further reading, be sure to check out our recent article about Textron's electrically driven AC system for new production Beechcraft King Air 360, which is built right into the structure of the aircraft.